AC Uniforms & More Vendor of the Month
The Vendor of the Month promotion from AC Uniforms & More has been a monthly tradition that we are proud to bring to our customers. Many in the AC Uniforms & More community are familiar with the Vendor of the Month promotion but this blog post will explain it to newer members of the community and also go into detail about the Vendor we are featuring in June.
What is Vendor of the Month?
AC Uniforms & More offers 50% off a purchase of a top with the full price purchase of a matching pair of pants. This promotion allows our community to have constant discounts and deals on the best vendors in the industry. Healing Hands, Barco, Cherokee & Dickies, Wonder Wink, Jockey, and Med Couture to name a few of the many Vendors available in-stores and featured in past and future Vendor of the Month promotions.
Why is Vendor of the Month Important to us?
AC Uniforms & More has been devoted to serving West Texas and providing the best scrubs to the health workers in the area. Our Vendor of the Month promotion is a way to give back to our customers. Providing the best scrubs at discount prices every month of the year allows us to showcase and provide for the community we serve.
June 2019? Dickies and Cherokee!
Our Vendor of the Month for June 2019? Dickies and Cherokee! The collections offered by these brands are some of the best scrubs available! Sporty, comfortable, and fashionable collections for all your needs.
Dickies Dynamix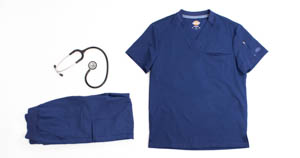 "Inspired by sport, designed for the way you work." Dickies collection of Dynamix scrubs was built with sport in mind but still designed for the sometimes delicate and sometimes dirty work of a healthcare worker. This collection has a line for both men and women and is sure to help you through your everyday workload.
Cherokee:
Infinity
Cherokee's Infinity line helps keep you on the move with comfortable flexible fabric. Subtle stitching accents and a bungee I.D. badge loop help the scrub tops look fashionable and give you functional support. Inspired by sportswear and made to keep you on the move the Infinity collection for men and women is made to stay comfortable for the longest shift.
Heart Soul
Heart Soul scrubs are designed and styled for the health care professional who appreciates a fashionable, functional but chic look for their everyday wardrobe. Heart Soul brands themselves as the scrubs for the young and young-at-heart. Mix-and-match prints and colorful solid-color scrubs for those who desire a "unique dress-to-impress/express look." Fashion, style, and trend-inspired designs are Heart Soul's specialty.
Revolution
Cherokee says Revolution is their newest fabric and feels simply wonderful. We could not agree more! The softest fabric lets you stay comfortable and confident. The Revolution collection comes in styles tailored for a tucked or un-tucked style for your convenience. Wear your scrubs how you like with Cherokee Revolution.
Statement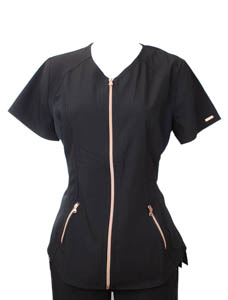 This Statement collection stays true to its namesake and will let you show your style. Rose Gold accents and two styles of tops to choose from ensuring you look and feel stylish and professional. Front zip pockets in rose gold and your choice of zip-up top or pullover top let you wear functional, comfortable, and stylish scrubs.
Our Vendor of the month promotion is here to give you the best deals on the best brands. This month Cherokee & Dickies collections are featured and next month we will feature another. Each line listed in this post is part of June 2019's promotion. 50% off your top with a full price purchase of pants.
Follow us on Facebook and Instagram to keep up with our promotions and see more of what we have available.
AC Uniforms offers the Vendor of the Month promotion at both locations:
3106 34th Street, Lubbock, TX 79410
And
715 Ash St, Plainview, TX 79072
Come in-store soon to take advantage and grab your Dickies or Cherokee scrubs!
---
---